---
---
Features:
* Suits most barking dogs from 4.5kg
* 6 variable intensity settings (2-7) to suit any type of disposition
* Rechargeable rapid charge Lithium Polymer Battery, charger included
* Fully Waterproof (IPX 7)
* Non-electrical stimulation vibration (P) warning prior to the stimulation
* Testing level (T) allows for testing of the collar without any electrical correction
* Lithium FAST Charge Battery with light indicator
* Fits dogs as small as 4.5 kg. (receiver weight: 113grams)
* 1 Year Warranty
The Dogtra YS300 is a very small and lightweight bark control collarwhich is designed for small to medium sized barking dogs and some large long/thick coat dogs. Special feature include the "P" vibration warning before static correction. The Dogtra YS300 features industry-leading electronics, six variable intensity settings from low to mid-range, is fully rechargeable and completely waterproof (IPX 7). 
Key Definitions:
Microphone Sensor
The Dogtra YS300 Barking Collaris using the most advance Dogtra technology "sound recognition and filtering microprocessor" which is able to distinguish a dogs' barking from its surrounding ambient noises. This intelligent barking collaris fitted with this self-activating micro processing sound analysis technology, which only responds to the barking of your dog.
Indicator Light (LED window)
The indicator light (LED Window) will flash 1 second when the Dogtra YS300 anti barking collarhas been turned on. Then after 2 seconds, it will flash every 2 seconds. If the collar has been activated over 10 seconds, it will automatically turn into sleep mode and the LED will be off as well.. Before going into Sleep mode, the LED light flashes green when the battery is fully charged and turns to amber when the battery life is getting low. When the LED indicator emits a blinking red light, the battery needs to be recharged.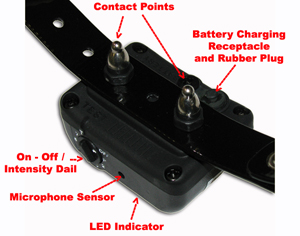 Stimulation
The Dogtra YS300 anti barking collarhas 7 levels of static electronic stimulation and a vibration. The "P" level is vibration only mode. This can be effective for some small dogs and/or sensitive dogs as the vibration from the collar may be enough of a distraction to get their attention and stop them from barking.
From levels 2 to 7, a warning vibration is first activated followed by a static stimulation (2 being the lowest, 7 the highest). The ability to manually select the level of correction makes the Dogtra YS300 bark collar ideal for a wider range of dogs compared to automatically-set units. This is due to the fact that you can start off on the lowest setting and, depending on the dog's reaction, increase the level until the right setting is found for your dog.
| | |
| --- | --- |
| OFF | Power OFF |
| P | Vibration only (non-stimulation) |
| 2-7 | Vibration followed by stimulation |
| T | Test mode |
Testing the Dogtra YS300 bark control collar :
1. Turn the Dogtra YS300 bark control collaron by turning the ON/OFF & Intensity Dial and select the test mode (T) so that the arrow on the dial is aligned with the letter " T".
2. Scratching the microphone sensor by using a coin or a hard metal object. The collar should emit a vibration three times. Repeat the same process if you want to test again.
---